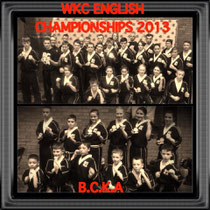 The points and kata sections of the WKC English National Championships were held on 3rd February 2013 with the continuous sections held on the 24th February.  The BCKA had a strong team out in force representing the association for both events.  
For the first time we had some of our martial artists competing in the weapons categories of the kata competition.  And both events yielded fantastic results for the BCKA with a total medal count of 65, effectively doubling the total from 2012.
In total from the points and kata event the BCKA won 14 bronze medals, 9 silver medals and 15 gold medals with 27 of our competitors qualifying for this year's World Championships.  6 of the total medals were won in the kata sections with the BCKA taking more and more members into kata competition.  From the continuous sections the BCKA took 15 bronze medals, 7 silver medals and 5 gold medals with an extra 10 of our competitors qualifying for the World Championships in Italy taking the total who qualified to 37.
Everybody who competed on both days gave it absolutely everything on the mats, win or lose we couldn't ask more of our team with some of the fantastic performances they pulled out.  Well done to the whole team!
If your result is incorrect or missing please comment below, we would like to recognise everyone who competed - thanks!!
---
Full Results
Kata
Isabelle Leggett - Junior Girls Chinese Soft Style - GOLD
Isabelle Leggett - Junior Girls Traditional Weapons - GOLD
Danilo Trozzi - Men Chinese Soft Style - GOLD
Robert Simpson - Men Chinese Soft Style - BRONZE
Danilo Trozzi - Men Vet +42 Yrs Traditional Weapons - GOLD
Robert Simpson - Men Vet +42 Yrs Traditional Weapons - SILVER
Semi Contact (Points)
Boys
Luke Spinelli - Kids -25kgs - BRONZE
Kian Heron - Kids -30kgs - Second Round
Alex Carter - Kids -35kgs - First Round
Alex Carter - Kids - 40kgs - First Round
TJ White - Kids -45kgs - GOLD

Nikolai Milanov - Cadets -55kgs - GOLD
Nikolai Milanov - Cadets -60kgs - GOLD
Jack Etches - Cadets -60kgs - BRONZE
Kieren Wilson - Cadets -65kgs - GOLD
Jack Etches - Cadets -65kgs - First Round
Jack Bristowe - Cadets +65kgs - BRONZE
Harry Nunn - Cadets +65kgs - BRONZE
Lewis Gemmill - Juniors -55kgs - SILVER
Daniel Laing - Juniors -60kgs - GOLD
Lewis Gemmill - Juniors -60kgs - SILVER
Courtney Brown - Juniors -70kgs - SILVER
Courtney Brown - Juniors +70kgs - GOLD
Girls
Freya Molloy - Kids -50kgs - GOLD
Paris Sturgess - Kids -50kgs - SILVER
Charlotte Cameron - Kids +50kgs - SILVER
Freya Molloy - Kids +50kgs - BRONZE
Hollie Taylor - Cadets -45kgs - SILVER
Kirsten Wilson - Cadets -55kgs - BRONZE
Men
Richard Faller - Men -60kgs - BRONZE
Lee Murray - Men -65kgs - First Round
Grant Brown - Men -70kgs - BRONZE
Courtney Brown - Men -70kgs - BRONZE
Kevin Williams - Men -70kgs - First Round
Alex Barrowman - Men -75kgs - GOLD
Richie Wooton - Men -75kgs - First Round
Ryan Winham - Men -80kgs - GOLD
Andy Roberts - Men -80kgs - First Round
Ryan Winham - Men -85kgs - SILVER
Aaron Godden - Men Vet 35+ Yrs -75kgs - GOLD
Wayne Stanton - Men Vet 35+ Yrs -75kgs - BRONZE
Aaron Godden - Men Vet 35+ Yrs -85kgs - BRONZE
Women
Nicola Gemmill - Women -55kgs -  BRONZE
Nicola Gemmill - Women -60kgs - GOLD
Katie Grant - Women -65kgs - SILVER
Lil Merricks - Women -65kgs - First Round
Katie Grant - Women -70kgs - First Round
Jo Redman - Women -70kgs - First Round
Cat Harris - Women +70kgs - BRONZE
Light Contact (Continuous)
Boys
Declan Etches - Kids -30kgs - BRONZE
Alex Carter - Kids -35kgs - BRONZE
Edward Paddock - Kids -40kgs - BRONZE
TJ White - Kids -45kgs - BRONZE
Nikolai Milanov - Cadets -50kgs - BRONZE
Nikolai Milanov - Cadets -55kgs - SILVER
Jack Etches - Cadets -65kgs - GOLD
Kieren Wilson - Cadets -65kgs - SILVER
Jack Bristowe - Cadets +65kgs - GOLD
Harry Nunn - Cadets +65kgs - BRONZE
Lewis Gemmill - Juniors -55kgs - SILVER
Daniel Laing - Juniors -65kgs - GOLD
Courtney Brown - Juniors -70kgs - GOLD
Girls
Honey Stanton - Kids -35kgs - BRONZE
Charlotte Cameron - Kids +55kgs - SILVER
Freya Molloy - Kids +55kgs - BRONZE
Men
Lee Murray - Men -60kgs - SILVER
Richard Wooton - Men -70kgs - SILVER
Alex Barrowman - Men -75kgs -
Ryan Winham - Men -80kgs - BRONZE
Jamie Key - Men -80kgs - First Round
Aaron Godden - Men Vet 35+ Yrs -75kgs - SILVER
David Richards - Men Vet 42+ Yrs +85kgs - BRONZE
Women
Emmadee Fox - Women -55kgs - BRONZE
Sophie Collinson - Women -65kgs - BRONZE
Jo Redman - Women -70kgs - GOLD
Katie Grant - Women -70kgs - BRONZE
Cat Harris - Women +70kgs - BRONZE
Heather Richardson - Women Vet +35Yrs +60kgs - BRONZE
---