The WKC Great Britain Championships for 2012 took place on the 17th June in Manchester.  As usual with WKC competitions the standard of competitors was very high and the BCKA team set off ready for the challenge.
The BCKA did exceptionally well at this tournament coming away with 10 golds, 8 silvers and 4 bronzes.  Well done to all our fighters once again!
Results taken from WKC website, if your result is incorrect or missing please contact info@bckakickboxing.com - thanks!  Please let us know if you went to this competition but did not receive a medal so we can give you a mention.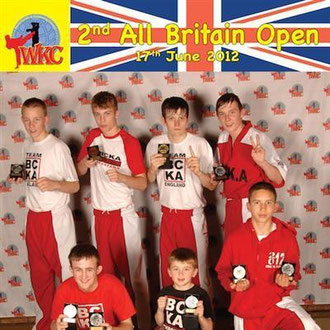 ---
Full Results
Kata
Isabelle Leggett - Junior Girls Chinese Soft Style - Gold
Semi Contact (Points)
Boys
Declan Etches - Kids -25kgs - Silver
Nikolai Milanov - Cadets -50kgs -  Gold
Lewis Gemmill - Cadets -50kgs - Silver
Jack Etches - Cadets +55kgs - Silver
Jack Bristowe - Cadets +55kgs - Bronze

Girls
Nicola Gemmill - Juniors -55kgs - Gold
Men
Courtney Brown - Men -70kgs - Bronze
Alex Barrowman - Men -75kgs -  Gold
Marco Broccoli - Men -80kgs -  Gold
Jamie Key - Men -80kgs - Silver
Balraj Kang - Men -85kgs - Gold
Women
Nicola Gemmill - Women -60kgs - Gold
Katie Grant - Women +60kgs -  Gold
Light Contact (Continuous)
Boys
Nikolai Milanov - Cadets -50kgs -  Gold
Lewis Gemmill - Cadets -50kgs - Silver
Jack Bristowe - Cadets +55kgs -  Gold
Kieren Wilson - Cadets +55kgs - Silver
Daniel Laing - Cadets +55kgs - Bronze
Harry Dunn - Cadets +55kgs - Bronze
Men
Marco Broccoli - Men -80kgs -  Gold
Jamie Key - Men -80kgs - Silver
Women
Cat Harris - Women +60kgs -  Silver
---