WKC international and one of the quietest members of the BCKA England Squad Nicola Gemmill took time out of her busy training schedule to chat to us about her successes over the last year, her ambitions for the future and the upcoming WKC World Championships. Read on to find out more about one of the BCKA's brightest young stars and what motivates her.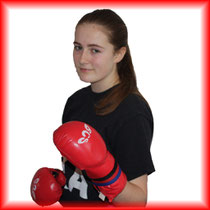 1. Nicola, over the last year you have had a number of successes in tournaments, in fact in every tournament you seem guaranteed to come away with a trophy. What do you class as your best or favourite performance in a tournament and why?

I think I would class my best and favourite performances as the first fight at the World Championships and the fights at the Irish Open because at those times I was so ready to fight and excited about just being there.
2.   A lot of people would love to be as successful as you are in competition, are there any secrets for success or fighting tips you can share with us?
Just try your best and really go for it. Don't be intimidated by or underestimate your opponent because that will have an effect on how well you perform. Also it might help to mix it up a bit like throwing in various punches and kicks. In training work hard to build up stamina and technique by listening to instructors and following what they say. Spar lots with different people all the time.
3.  Nicola, everyone knows you are a very quiet and reserved girl yet when you step onto the mat or begin fighting you almost undergo a transformation
a)      Do you get nervous about fighting?
Yes, not so much for competitions in Boston and Peterborough but bigger ones like the Irish Open I get very nervous but when I step onto the mat I'm not.
b)      What motivates you to fight?
The enjoyment of it and wanting to be the best. I just enjoy fighting. It's a good feeling when you're psyched for the fight and you can feel your heart beating faster and the adrenaline from fighting. It's also a good feeling after you win a fight as well and losing just makes me want to try harder.
c)       What aspirations do you have as a competitive fighter?
I just want to do the best I can, improve, train hard and win competitions, be the best.
4.  Who do you think has been the biggest influence on your success as a fighter? And how do you feel about that person?
Support from family has been a huge help and made it a lot easier. There are two people who have been the biggest influence of my success, Jo Redman and Richard Hall. I'm extremely grateful towards them both as they have helped me a lot and given me advice, without their help I don't think I would be as good as I am now.
5.  There are a lot of good fighters in the BCKA, some experienced and some upcoming. Which fighters do you admire most and learn the most from watching?
The fighters I admire most and learn from watching are Kevin Williams, Alexander Barrowman and Richard Wooton because of their experience in points fighting. I admire their speed and you can learn a lot by watching them fight other people.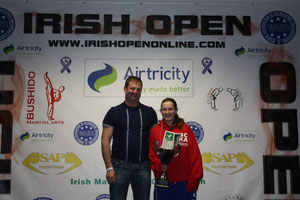 6.  As well as your competition fighting you also practise kung fu. What do you enjoy most about kung fu and what aspirations do you have in kung fu?
I enjoy it because it's different and there are a lot of different things that you can do and learn and I hope to pass all the gradings that I do. I want to continue up the grades, achieve black sash and maybe when older move on to become instructor.
7.  How often do you train and how would you describe your attitude towards training?
I train three times a week. I usually enjoy training and it's good to get sweaty once in a while.
8 . Outside of the BCKA you are still at school, how do you find managing your school work and life with your commitments to training?
It's quite easy because I still have plenty of time to do homework and revise.
9.  What is your favourite thing to do outside of training? What other interests and talents do you have or enjoy?
I normally read a book or listen to music and hang out with friends sometimes.
10.  Finally, the WKC World Championships are coming up shortly. This will be the second World Championships you have competed in following your bronze medal in last year's event.
a) Firstly tell us about your experience at last year's World Championships.
I thought it was good. The closer it got the more excited and nervous I became and you know you're going to come up against a lot of good fighters so you have to fight the best you can.
b) So are you ready for this year's World Championships in Portugal? Surely you must be aiming for gold? What can you tell us about your preparations and feelings coming up to this competition?
Yes, at home I have been doing a bit of padwork and stretching. I'm excited but nervous, I know it is going to be another good experience. In my sparring I have been trying to move around a lot more, getting me hands involved and working on distance and timing.
---